Victoria's Secret Angel for the first time covers Victoria's Secret 2016 swim catalog.
The model, 27, shares and opens up about it to PeopleStyle about the great opportunity below!
How did you react when you found out you landed the coveted swim cover spot?

"I was freaking out. I literally thought they were playing a joke on me. I know this is such a big deal, and I am so honored to be selected as the cover model. We have been on so many swim trips but you never go in thinking that is going to happen."
What do you love most about the shot?
"Guy Aroch took this image and I have a very special working relationship with him. I have been working with him since I first arrived in New York! His photography style is all about being natural. He is not into retouching, he doesn't like anything too perfect. It is really just you…and I think that is so beautiful. I think this [cover] shot stands out because it is so natural."
How many takes did you go through?
"Not many! We were in Bora Bora shooting this image. I threw on swimwear and we had this idea that I would rise up from the ocean. I started untying the swimsuit and it started to fall off; it was a very natural moment. Those are just the kind of moments that Guy [Aroch] likes to capture. We all knew it was a great shot, but I had no idea it would be the cover."
What's the hot bikini style for 2016?

"I am obsessed with crochet bikinis. It's all I want to wear right now. It is very old school and retro. I love the one on the [Victoria's Secret] catalog cover for example. It is reminiscent of the '70s or what girls would wear to Woodstock — just throw a boho skirt on and listen to The Doors."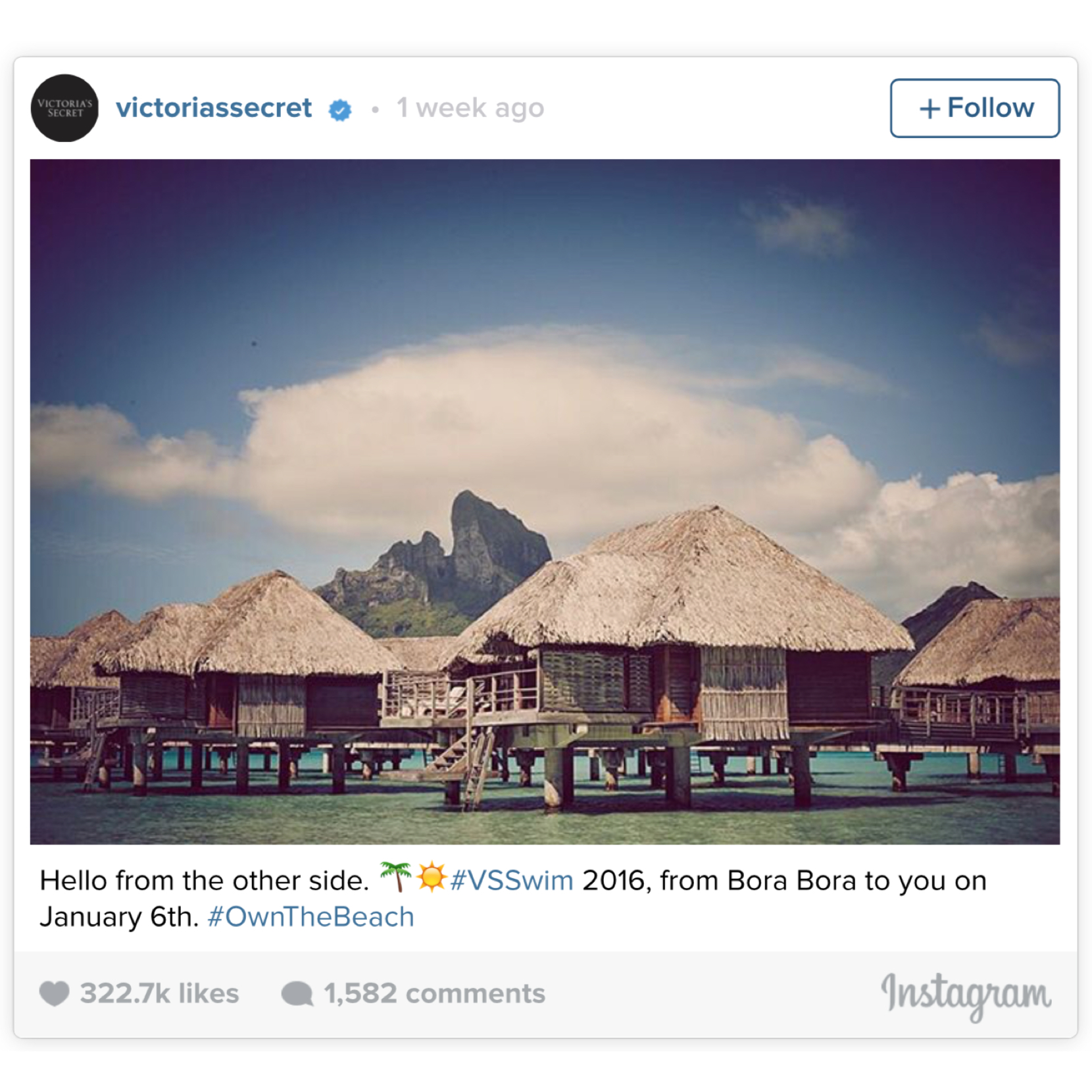 What's one swimsuit trend you're tired of?

"Tankinis. I love one-pieces. If you typically wear a Tankini, give a one-piece swimsuit a try. It's fashion forward and hot."
What's more fun to model: Swimwear or lingerie?
"Swimwear because you get to work on the beach."
How many swimsuits do you own?
"I own way too many swimsuits — maybe 50!"
Do you own more swimsuits than shoes?
"No, I probably still own more shoes than swimsuits."
You walked in your fifth Victoria's Secret Fashion Show! What's your ultimate memory?

"My ultimate memory was being together with all of the new Angels and see us all walk the runway together. It was such an incredible feeling. Even though we have all done the show before, this was our first time as Angels — and it was really special!"

What's your most embarrassing moment from doing the VS fashion shows?
"I would have to say it was probably at the 2014 Victoria's Secret Fashion Show when I 'hit' Ariana Grande with my wings as I walked passed her on the runway. The thing is, I actually never hit her…it just looked like it. She ducked right in time."
What's the most surprising thing about being a lingerie model?

"People may be surprised to know that all of the models are really supportive and welcoming to each other. And we have made some incredible friends through this job."
Do you have a new year's resolution?

"I would like to meditate more and take some weekend getaways if I have time. When I am in New York City, I would like to try explore outside of the city more."
What Angels did you look up to when you were younger?

"Candice [Swanepoel], Adriana [Lima], Gisele [Bündchen], Miranda [Kerr] — really all of them! And I really looked up to Behati [Prinsloo] because she used to be a Victoria's Secret PINK model like me. I really looked up to all of their confidence. When I first started, I was quite nervous. They made everything look effortless."